Western Digital Blue PC SSD 500GB 2.5'' / M.2 2280 Solid-State HardDisk / SATA III 6GB/s / 3 Years Limited Warranty
Description
Western Digital Blue PC SSD 500GB 2.5'' / M.2 2280 Solid-State HardDisk / SATA III 6GB/s / 3 Years Limited Warranty
UPGRADED STORAGE FOR HIGH END PERFORMANCE
Ready for your high performance computing needs, a WD Blue SSD offers optimized storage with blazing speed and leading-edge reliability.
Superior Performance
With read speeds up to 545MB/s and write speeds up to 525MB/s, WD Blue SATA SSDs deliver fast system boot times and less load time.1
Leading-Edge Reliability
An endurance rating of up to 400TBW and a 1.75 million hour mean time to failure ensure a WD Blue SSD can help guard your data for years to come.2
Maximized Multitasking
Optimized for multitasking, WD Blue SSDs let you simultaneously run several demanding applications with ease.
THE RIGHT FORM FACTOR FOR YOUR PC
Evolved for smaller and thinner computers, WD Blue SSDs are available in 2.5" 7mm and M.2 2280 models to accommodate most laptop and desktop PCs. And the downloadable WD SSD Dashboard provides a suite of tools so you're always able to check on the health of your solid state drive.
WD F.I.T. LAB CERTIFIED
Certified by WD F.I.T. Lab to be compatible with a wide range of desktop and laptop computers, you can be sure a WD Blue SSD is the right fit for you.
FREE WD SSD DASHBOARD
With the downloadable WD SSD Dashboard, you get tools to help track things like available capacity, drive health, temperature, SMART attributes and more.
DOWNLOAD WD SSD DASHBOARD
3-YEAR LIMITED WARRANTY
Every WD Blue SSD comes with a 3-year limited warranty, so you can confidently trust WD for all your data needs.
TECHNICAL SPECIFICATIONS
Transfer speeds up to 545MB/s and capacities up to 1TB with models for old and new desktop and laptop PCs. Check your PC's specifications to determine the right upgrade.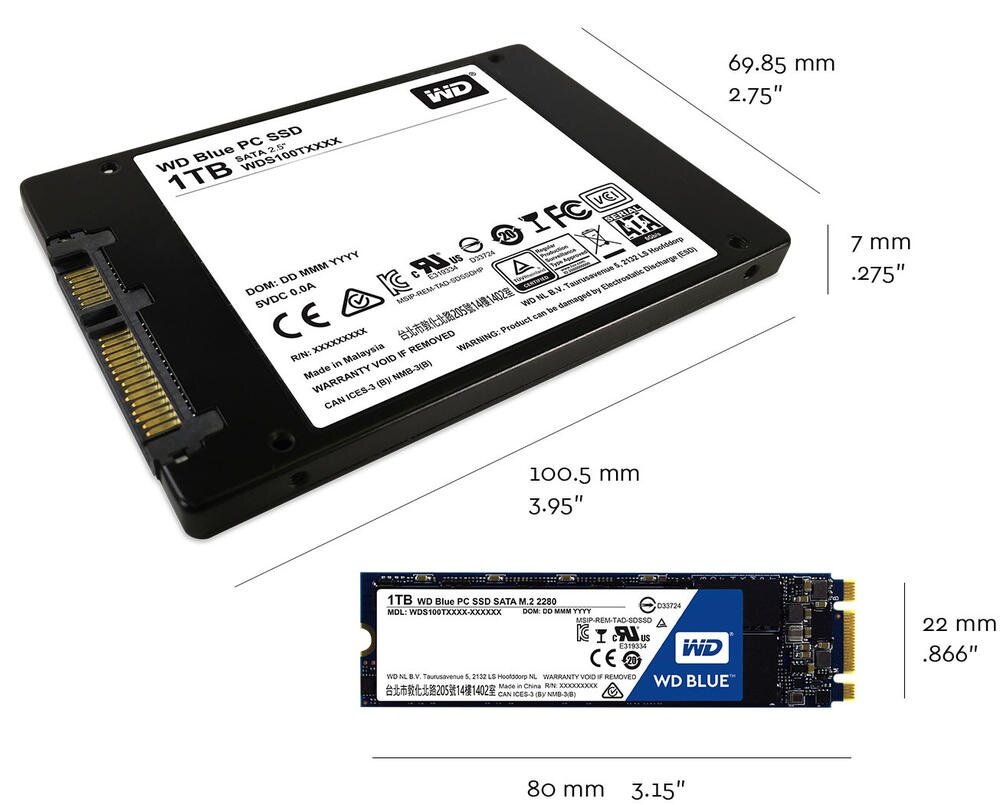 Capacity
1TB, 500GB, 250GB
Interface
SATA 6Gb/s
Form Factor
2.5 Inch 7mm
M.2 2280

Endurance (TBW)
250GB 100
500GB 200
1TB 400
Tell us what you think about this product, share your opinion with other people. Please make sure that your review focus on the product. Inappropriate reviews will not be posted.


Please
login
as customer to write a review.
Should you need more information on the product, kindly write your details to us.